Azuree
Turkey
Стамбул, Abdi İpekçi Cad. Ada Apt. No: 22/18 K:5 Nişantaşı, 34367
When it comes to Turkish sailboats, I recall innumerable fleet Gulet — a traditional wooden boat that moves an army of tourists on the Islands and bays of the Mediterranean. Project Azuree — a bold challenge to the stereotypes and the proof that Turkey can be made of a yacht innovative designs using the latest technologies. "My goal is the creation of internationally recognized Turkish brands," says Kirac Ipek (Ipek Kıraç), the head of the company Sirena Marine, owner of the brand Azuree.
company History
History Azuree is inextricably linked with the shipyard Sirena Marine founded in 2006, holding Kıraça in partnership with the world famous >Azimut-Benetti Group.
Azuree became Turkey's first serial brand of sailing yachts. The line was launched in February 2010, in collaboration with the Italian designer Giovanni Ciccarelli (Giovanni Ceccarelli was). The successful combination of technology and design has brought success. The first two models are Azuree 40 and Azuree 33 has received high praise professionals. Azuree 33 was selected "boat of the year / Barca dell' Anno" at the International exhibition in Genoa.
to lead the company in 2012, Ipek Kirac, the youngest daughter in the family holding company, have given new impetus to the development of Sirena Marine Azuree and brand. Under her leadership has expanded a global sales network, the company has reached the international level.
Manufacturing
Yachts Azuree are manufactured at the shipyard Sirena Marine in Bursa (Turkey) on the coast of the Marmara sea. Production facilities cover an area of 155 000 square meters. As a partner of Azimut-Benetti Group, the company uses the most advanced technology composite hulls. In the latest models the company uses the method of vacuum infusion lamination of fiberglass. Previously, the company was also experimenting with carbon composites.
production Volumes have not yet reached the level of global competitors, such as >or Bavaria >Bavaria. Since inception, the company issued a little over a hundred yachts under the brand Azuree.
Lineup
Yachts Azuree successfully compete in the middle price segment of the size range of 33 to 46 feet.
All models produced Azuree follow the traditional Mediterranean construction of the Bermuda sloop with an extended aft cockpit, providing a good movement rate and maneuverability.
Each model in the line Azuree has a carefully thought-out internal layout.
Features
Considering the interests of the majority of consumers, involving the use of the yacht in a short Mediterranean cruises, the company relies on the usability of internal space and cockpit. For example, the model 33 has the widest-in-class housing, which made the layout of the interior, comparable 36-futuyama competitors.
As is common among the yachts of the class, Azuree has no eye-catching differences. Their dignity to a reasonable balance of quality, ergonomics and price.
Yacht models
Sport-cruising yacht
Cruising yacht with a Mediterranean cockpit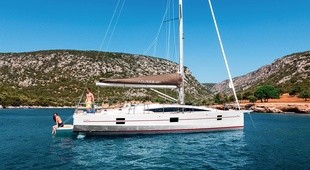 3
Azuree 41
Azuree
12.50 m
1 offers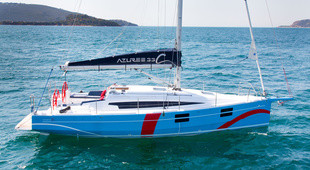 2
Azuree 33C
Azuree
9.99 m
0 offers